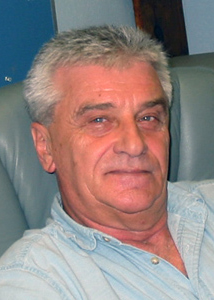 Alex Sydorenko, professor emeritus and originally from Ukraine, will present a Greenfield lecture
Alex Sydorenko, professor emeritus and originally from Ukraine, will present a Greenfield lecture
03/18/2022
JONESBORO — Alexander Sydorenko, professor emeritus of history and a native of Ukraine, will present the 2022 Corinne Sternheimer Greenfield Lecture at Arkansas State University.
Speaking on "Russia and Ukraine: A Civilizational Perspective," Dr. Sydorenko's timely presentation will begin at 7 p.m. on Tuesday, March 29, in the auditorium of the Reng Student Union. Sydorenko retired in December 2020, after serving 48½ years as a member of the A-State Department's history faculty.
Born in Soviet Ukraine, then occupied by the German army during World War II, he and his parents were expelled from Ukraine to Germany. His family surviving in several displaced persons camps in Germany, were among the refugees moving west to avoid the advance of the Red Army and repatriation to the USSR.
His family immigrated to Brazil in 1949 and then to the United States in 1959. Living in Chicago, he became an American citizen in 1966. After earning a bachelor's degree from the University of Illinois-Chicago, he later completed a master's and Ph.D., in Russian and Ukrainian history, at the University of Illinois at Urbana-Champaign.
Entered the Faculty of History in 1972, he taught a variety of Russian and European undergraduate and graduate courses. In 1976, he led students on a 24-day study trip to the USSR, visiting Leningrad, Moscow, kyiv, and other locations. During this trip, he visited his native village and met relatives. He also had a sabbatical in Ukraine, teaching a course at the Kyiv-Mohyla Academy.
Since the early 1990s, he has traveled across Ukraine more than a dozen times to present papers at scholarly conferences, visit historic towns and sites, and see relatives. He has published a book, numerous scientific articles and over 100 book reviews. He is a member of various scholarly organizations and is fluent in Ukrainian, Russian, Portuguese and Spanish.
In retirement, he focused on writing memoirs, including one entitled "Motherland", which he calls an attempt to come to terms with the condition of exile – the question of a Ukrainian identity shaped by a Brazilian background. and American while being distant from the country of ancestry and kinship. He is also working on a novel, "The Steppe", dealing with the Greeks of southeastern Ukraine.
First presented in 2004, the annual Greenfield Lecture is funded by an endowment established by Drs. Rosalee and Raymond Weiss to honor his mother, Corinne Sternheimer Greenfield, who was born in Jonesboro in 1896. The Sternheimer family was among the first to support the State Agricultural School, established in 1909, which became State University from Arkansas. The Greenfield Lecture is also supported by the A-State College of Liberal Arts and Communication, which coordinates the event.
# # #