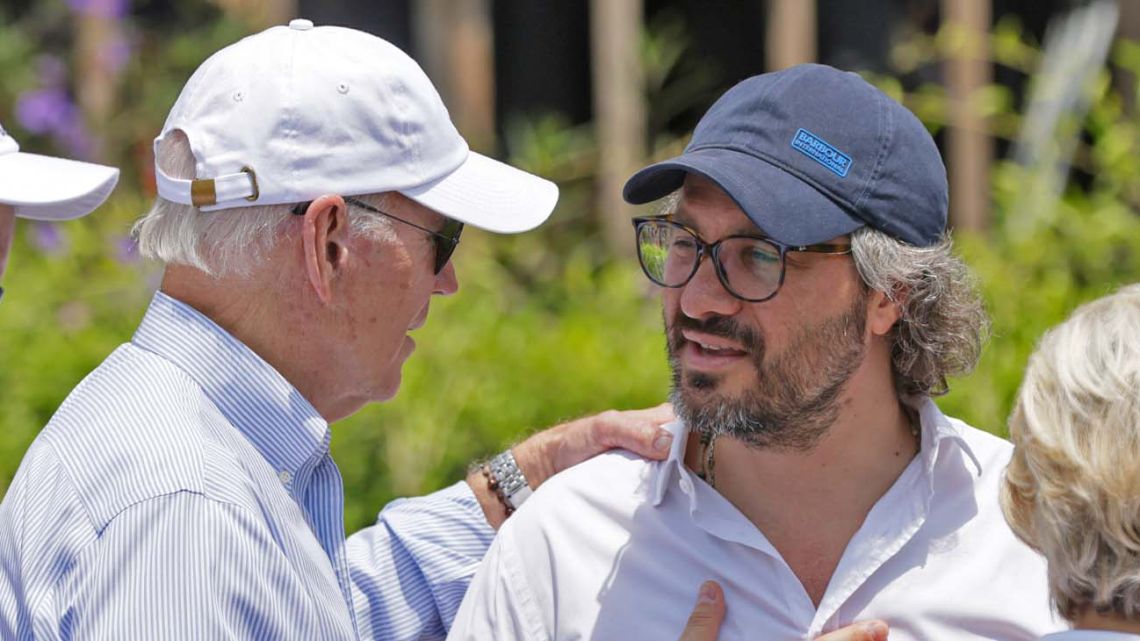 Buenos Aires Weather | Stories that caught our attention: November 11-18
ALBERTO IN BALI
President Alberto Fernández's attendance at the G20 leaders' summit in Bali last Tuesday and Wednesday was reduced to a bare minimum by an attack of gastritis and low blood pressure. The president reduced his agenda to a 20-minute meeting on Tuesday with Chinese President Xi Jinping (followed by the announcement of a currency swap expansion with the Bank of China to the tune of US$5 billion in yuan ), also pushing China to keep its promises. his promises to invest $1.22 billion in the Santa Cruz dams, while on Wednesday his only contacts were with International Monetary Fund Managing Director Kristalina Georgieva and Spanish Prime Minister Pedro Sánchez. With the former, he urged the IMF to drop its interest rate surcharges and sought to change the targets set out in last March's accord while Georgieva recommended tackling inflation. Foreign Minister Santiago Cafiero replaced him in all other scheduled activities. "I'm fine and I'm working well," President Fernández told reporters, downplaying the health scare.
THREE-DIGIT INFLATOR HEADS
Last month's inflation was 6.3%, the INDEC national statistics office said on Tuesday, accumulating 76.6% for the first 10 months and operating at an annual rate of 88%. Communications (12.1%) was the main culprit, mainly due to soaring prices for telephone and internet services, followed by "Housing, water, electricity, gas and other fuels" (7.5% ), due to updated utility billing. Health is next (7.1%) due to rising costs for prepaid healthcare plans. The key food and beverage item was slightly below average at 6.2%, fruits and vegetables registering the largest increases while underlying inflation (excluding seasonal and regulated prices) The Central Bank's REM (Relevamiento de Expectativas de Mercado) survey of economic consultants shows that they make forecasts at triple digits for this year while falling to 96% next year and nearly 70% in 2024.
FIVE YEARS SINCE THE UNDERWATER TRAGEDY
The fifth anniversary of the sinking of the ARA San Juan submarine with the loss of 44 lives was marked last Tuesday with various outstanding points such as the lack of forensic analysis while Judge Caleta Olivia Marta Yáñez has not yet ruled on the Court's recommendation federal appeal by Comodoro Rivadavia according to which the criminal proceedings already underway against four naval officers be extended to ex-president Mauricio Macri, to his Minister of Defense Oscar Aguad and then to the Chief of the Naval Staff Marcelo Surr. The families of the victims continue to express their dissatisfaction.
COUNCIL BLOCKED, BUT BUDGET PAST
The deadlock over the Judicial Council continued last week, with Kirchnerisme insisting on its choice, Senator Martín Doñate (Frente de Todos-Río Negro) while Senator Luis Juez (PRO-Córdoba) said that 'he would sue Vice President Cristina Fernández de Kirchner (who was acting president until yesterday in the absence of Alberto Fernández) unless she recognizes him, as the Supreme Court decided at the start of the month. A power struggle is looming, Juez warned. The deadlock had consequences beyond the judiciary as Kirchnerites' insistence on Doñate as a Senate representative led the opposition to skip Wednesday's session in protest, allowing the Frente de Todos caucus to pass the 2023 budget by a vote of 37-0 and almost without debate, limited to 90 minutes. This budget (approved last month by the Chamber of Deputies by a vote of 180 to 22) projects total public spending of almost 29 trillion pesos while projecting 2% growth and 60% annual inflation for the next year while reducing the budget deficit from 2.5 to 1.9% of gross domestic product.
HEALTH MANIFESTATIONS
Led by residents of the hospital, the wage discontent of city workers culminated last Tuesday evening with a torchlight march after nine weeks of protests including 19 days of strike, blaming that in many cases the wages of professionals in the health had fallen below the poverty line with basic hourly medical expenses. less than 300 pesos. But the next day, the city's health minister, Fernán Quirós, whose initial offer was 440 pesos per hour, almost doubled his salary to a monthly average of around 200,000 pesos, apparently on the initiative of the city ​​mayor Horacio Rodríguez Larreta, and a solution seemed to be glimpsed. Protest leaders have acknowledged that this offer would outpace inflation this year without recouping the real wage cuts of previous years. Rodríguez Larreta said in a radio interview that his goal was a starting salary of 200,000 pesos for police officers, teachers and health workers, but the town hall could not pay more than that without jeopardizing its budget balance.
MACRI: GERMANS ARE "SUPERIOR"
Former president Mauricio Macri was the target of government criticism and friendly fire last week, the former being sparked by a World Cup preview in which Macri viewed Germany's chances as a "superior run". At the same time, the city's mayor, Horacio Rodríguez Larreta, declared that Macri was not "the owner of the [Juntos por el Cambio] votes," insisting that the PASO primaries were the best way to define the candidates for the opposition coalition.
DELAY THE MUST
As part of a series of inland visits to prepare the ground for a possible presidential race next year, PRO deputy and former governor of the province of Buenos Aires, María Eugenia Vidal, visited the province from Formosa last week where she met with a difficult reception, being constantly heckled and harassed by activists responding to local Peronist Governor Gildo Insfrán. When Vidal criticized the latter, saying his 27-year reign had resulted in a backward province of at least 27 years compared to his time, Insfrán himself weighed in, saying it was Vidal who was "mentally backward ".
NEWS ON HUMAN RIGHTS
Last Wednesday in Paris, French Deputy Foreign Minister Anne-Marie Descôtes handed over to her Argentinian counterpart Pablo Tettamanti declassified files relating to human rights violations during the military dictatorship of 1976-1983. The two senior Foreign Ministry officials also benefited from an exchange of views on a wide range of other issues such as the current international situation, climate change, food security, bilateral trade and Antarctic cooperation.
SCALONETA QATAR TRAVEL
After beating the United Arab Emirates team 5-0 in Abu Dhabi on Wednesday, Argentina's World Cup squad flew to Doha to settle in their headquarters in a dormitory at Qatar University , where it will occupy 85 rooms. Next Tuesday they will face Saudi Arabia in their World Cup debut. At press time, coach Lionel Scaloni was still fine-tuning his 26-man roster, replacing the injured Nicolás González and Joaquín Correa with Ángel Correa (no relation) and Thiago Almada.
NEW COACH FOR THE RIVER
On the eve of the World Cup, Martín Demichelis arrived here last Tuesday from Munich to succeed Marcelo Gallardo as coach of River Plate, the team where the centre-back started his football career although he has spent many more years with FC Bayern Munich.