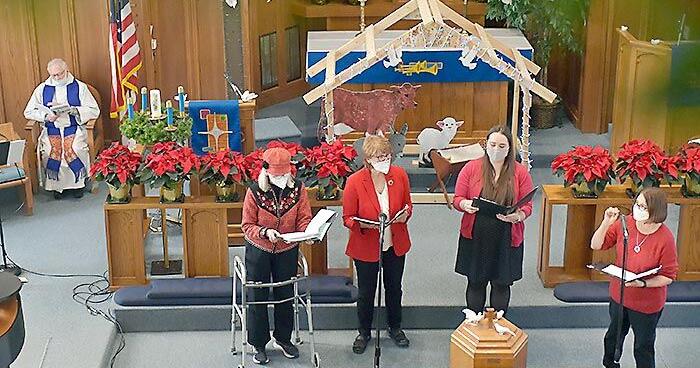 Christmas Tradition: Lincoln Church Stays True To Legacy And Embraces Change | News
[ad_1]
On a Sunday in December shirt sleeves, worshipers ascend the steps of the Evangelical Lutheran Church at Friedens in the Lincoln Lowlands.
The church's annual German worship service is about to begin, recalling the early 20th century days of corner grocery stores and summer kitchens and newcomers to modest clapboard houses, folding their children into America's messy melting pot.
Today, "Silent Night" becomes "Still Nacht". "O, Christmas Tree" changes to "O Tannenbaum". The Lord's Prayer begins with our Vater unser im Himmel.
Many come for nostalgia. To honor the parents, grandparents and great-grandparents who grew up in this enclave of Germans from Russia, a few blocks south of downtown Lincoln.
"It's the ancestral connection," says Kathy Tichota. "I just feel this presence of my family from the past."
That day, Tichota and her family put on their masks and picked up their ballots, pages filled with lyrics from Christmas carols printed in two languages.
"Im Namen Gottes, des Vaters und des Sohnes und des Heiligen Geistes," said a great guest preacher, the Right Reverend Michael Melchizedek.
Bud Christenson, the white-haired pastor of the church, repeats the words: In the name of the Father and of the Son and of the Holy Ghost.
For the next hour, the day disappears. The past is resuscitated in a cadence transported from the Volga to Ellis Island to the Heartland.
At first, Friedens stuck to the customs of its founders while working hard to integrate into a new country.
Service in English at 10 a.m. every Sunday, followed by service in German at 11 a.m.
The last Sunday service in German disappeared from Sixth and D's church in 1965. But the congregation was not ready to let go.
So, year after year, at the dawn of Christmas, they come together.
Students, like Paul Masin de Ponca, who sits on a back bench with friends. The University of Nebraska-Lincoln freshman was sent by his German language teacher, Frau Jensen.
"It was interesting," he says. "I didn't really understand much. "
Neither did Donna Chapin, who came to the service for the first time with her husband, Jack.
"But it's a joy to know that this is happening because I don't want to forget my German heritage, for better or for worse."
By the turn of the 20th century, there were at least six Lincoln churches filled with Germans from Russia, said Pam Wurst, retired reference librarian at the American Historical Society of Germans in Russia.
They had spent generations in Russia thanks to Catherine the Great, a princess of German blood.
There they had their own villages, lands and churches. They kept their language.
In the late 1800s, Catherine's grandson resumed his promises. The men were to serve in the Russian army. Children should go to Russian school. Their churches were threatened.
"Most German men don't like being told what to do," Wurst said. "So they started to settle their families here."
The railroad paid a lot for the ride, dropping them off in towns across Nebraska. An early immigrant and grocer named HJ Amen sponsored villagers to settle in Lincoln.
In 1914, one in three babies born in the city had German-Russian parents.
Those in the lowlands went to church.
Friedens could claim 450 members by his 20th birthday in 1927.
"There were hundreds of kids for Sunday school in that basement," said longtime member Karen Scribner.
Scribner is busy in her kitchen the night before the special Sunday service. The retired teacher has already filled a Tupperware with delicate spritz cookies. Now she garnishes her kuchen with a rival's cherries: flour, butter and sugar. The spiral-bound German cookbook that belonged to his parents is open on the table.
His parents and their parents before them were devoted to the church and to its community.
"I carry this with me," she said. "I like Friedens to continue."
She spreads the word every December, sending emails to German teachers and newspapers, radio stations and former visitors to remind them to save the date.
Irene Newhouse and her daughter Abby will be making German pastries.
The mother arrived in Lincoln as a hugged baby with her parents and grandparents in 1952.
The three generations lived together.
"Grandma stayed at home with me while my parents worked," she said. "She learned English by watching soap operas."
But they also spoke German at home, and the church was their foundation.
This annual German religious service is a link with what is always close to her heart.
"It's just very emotional. When people sing these German anthems, you can see tears welling up in their eyes.
This year, mother and daughter, dressed in red, are waiting at the entrance to welcome their guests.
Freue dich, Welt, dein Konig naht…
Joy to the world, the Lord has come …
Round trip, round trip, a refrain from the early years.
During these early decades, the pastors of Friedens were to minister in two languages, preaching from a pulpit perched high on the wall.
World War I accelerated the assimilation of all Germans in Nebraska. Germantown has become Garland, Berlin has become Otoe. The Nebraska Legislature has passed a law prohibiting the teaching of any subject in a language other than English.
Then came Hitler and World War II.
"Most churches have switched strictly to English," Wurst said. "They didn't want to be known as Germans."
But Friedens Germans were very stubborn.
"My parents went to the service in English and returned home," said Kathie Svoboda, whose grandfather oversaw the construction of the church. "They considered themselves to be completely American."
The girl, now 92, stayed behind and sang in the German choir, studied German at university and felt the sentimental pull.
Friedens is the last of the Russian German churches in the South Bottoms.
It is a church that survived a fire, that mourned members who died in the 1918 influenza pandemic. A church that sent dozens of young men with German blood to fight for the United States during the WWII and held funerals for those who never returned home.
Peace. That's what Friedens means in German.
They try to live this promise.
As its numbers dwindled and the Volga Germans spread through the city and disappear into its fabric, Friedens opened its doors to small congregations in need of a home.
For almost four years now, members of Cristo Jesus la resurreccion y la vida have been meeting in the basement of the church on Sunday evenings for services in Spanish. And a Karen congregation meets on Saturdays.
They will be there as usual on the last Saturday of December – Christmas Day, sharing a meal and the traditions of their homeland of Burma, where they were persecuted as ethnic minorities and fled for freedom.
A congregation balancing two worlds. Two languages.
"The Karen people are new to this country, as are the people who founded Friedens," says Scribner. "It means a lot to us to welcome them to this country, as we have been welcomed. "
The Flatwater Free Press is Nebraska's first independent, nonprofit newsroom focused on the investigations and stories that matter.
[ad_2]