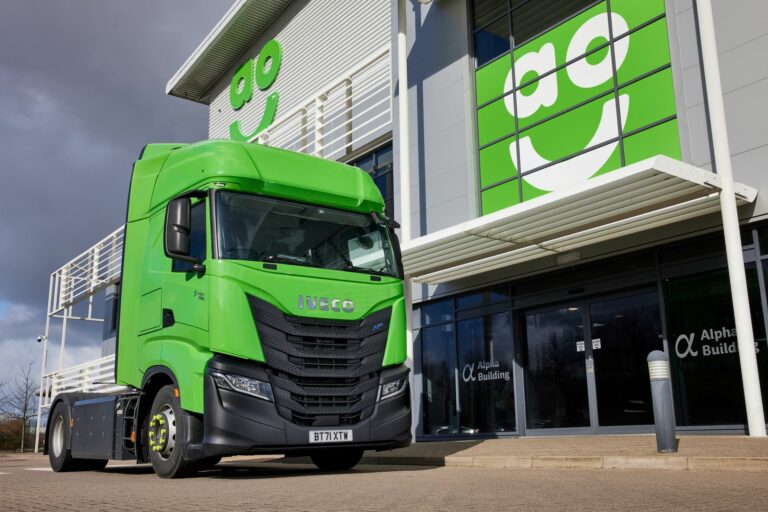 Fraikin delivers 10 CNG tractors to AO
Commercial vehicle rental company, Fraikin, has delivered 10 CNG-powered tractors to online electrical retailer AO in the UK.
Signed under a five-year full-service lease agreement, the new IVECO S-WAY NP 4×2 tractor units are the first in AO's fleet of 129 vehicles to run on natural gas. The vehicles run on compressed biomethane and replace older diesel-powered trucks.
The IVECO S-WAY NP features some of the most advanced gas-powered drivetrain technologies available, enabling operators to reduce carbon emissions by up to 95% when running on biomethane.
"We are delighted to welcome the new CNG vehicles to our UK transport fleet and to continue our successful partnership with Fraikin," said David Ashwell, Managing Director of AO Logistics.
"At AO Logistics, we are always looking for ways to improve our operations in terms of sustainability and fuel efficiency – testing these new IVECO tractors is a fantastic step towards reducing our impact on the environment."
Supplied in AO's green vinyl livery, the new vehicles will work with single or double deck trailers. Carrying major appliances between the company's depots in Crewe and north London, they are expected to travel around 125,000 miles a year.
Mark Guilfoyle, Business Development Manager at Fraikin, said: "Having already supplied 63 tractors to the fleet since the companies started working together in 2017, Fraikin has gained a solid understanding of AO's business and is acutely aware of what is required of the vehicles it operates, as well as its wider environmental objectives.
If the new trucks prove successful, AO Logistics will seek to replace more diesel-powered assets with support from Fraikin.