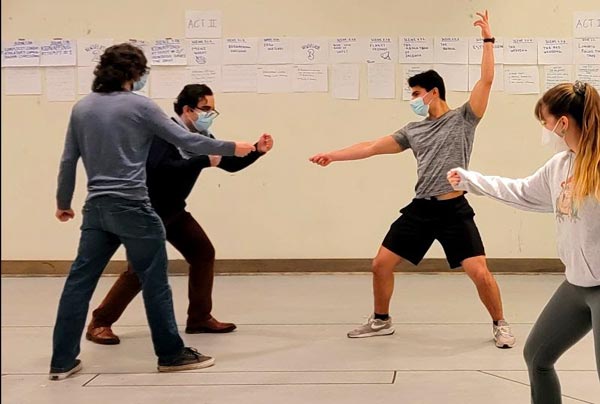 Lewis Center for the Arts Theater Program Presents Lope de Vega's "Fuenteovejuna"
NEWS | CHARACTERISTICS | PREVIEWS | EVENTS
originally published: 02/11/2022
Students rehearsing for the Lewis Center for the Arts' upcoming production of "Fuenteovejuna." Photo credit: Milan Eldridge
(PRINCETON, NJ) — The Lewis Center for the Arts' Program in Theater at Princeton University presents Fuenteovejuna by Lope de Vega, a classic piece from the Spanish Golden Age, which will be performed in Spanish with English surtitles. Directed by professional guest director Estefanía Fadul, this revamped production features original rock music composed by Julián Mesri, set design by Raul Abrego, Jr., and sound design by Nathan Leigh. The cast includes Princeton senior Juan José López Haddad, who is also the production's costume designer and playwright. Performances will be Friday February 25 and Saturday February 26 at 8:00 p.m. and Sunday February 27 at 3:00 p.m. at the Berlind Theater at the McCarter Theater Center, 91 University Place, Princeton.
Tickets are $12 in advance, $17 purchased the day of performances, and $10 for students at the McCarter Box Office. All guests should be fully immunized against COVID-19 where possible, which includes a COVID booster shot for all who are eligible to receive it, wear a mask indoors, and present proof of vaccination and Photo ID at the door (Students, faculty, and Princeton staff need only show their PU ID).
Lope de Vega, born in 1562 in Madrid, was a contemporary and literary peer of William Shakespeare, Christopher Marlowe, Pierre Corneille and Molière. Vega produced an enormous body of work during his lifetime, including plays, lyrical and epic poems, novels, epistles, and polemics. He renewed the formulas of Spanish theater at a time when theater was beginning to become common entertainment for the masses. His greatest contribution to this art form is perhaps his actor player. A actor is a play in three acts whose plot is inspired by national history and traditions, classical mythology, popular ballads of the time, the lives of saints, biblical stories or other sources. Despite what its name suggests, the actor often includes tragic elements. Fuenteovejuna is an excellent example of actor and Vega's best-known piece. First played between 1612 and 1614, Fuenteovejuna has become a fixture on stages across the Spanish-speaking world, from Latin America to Spain.
Fuenteovejuna takes place in 1476 in the Spanish countryside, during the war following the death of Henry IV of Castile. After Comendador Fernán Gómez de Guzmán's victory in battle, he returns to his estate in the town of Fuenteovejuna, where he kidnaps Laurencia, the mayor's daughter and Frondoso's new wife. After the incident, Laurencia convinces the villagers to rise up against the Comendador's tyranny and oppression, resulting in his murder. When King Ferdinand and Queen Isabella interrogate the city about the Comendador's murder, all they learn is that "Fuenteovejuna did it".
Although it is a classic 17th century work, Fuenteovejuna depicts a contemporary story where communities come together to empower themselves and create the change they wish to see. López Haddad proposed a production in Spanish of Fuenteovejuna as his senior thesis in Princeton's theater program because he wanted to challenge the assumptions made about Latin culture and Spanish-language plays in the Western theater world and about theater as an art form centered on the English. He also wanted to create and celebrate a community of theater makers coming together to stage a production in Spanish.
Advertise with New Jersey Stage for $50-$100 per month, click here for more info
---
As a history major specializing in the social and cultural history of the Middle Ages, López Haddad wishes to shed light on the people of the time through this project. He notes that people of this age were not docile peasants, as is commonly believed, but sophisticated and intelligent individuals capable of fighting for their freedom. Additionally, López Haddad believes the themes of gender and class struggle that run through the play are relevant in today's world, where many are fighting similar battles for justice as the women of Fuenteovejuna are.
Born in Caracas, Venezuela, and raised in Miami, Florida, López Haddad is one of approximately 30 Princeton seniors pursuing a certificate in theater or musical theater in addition to their major fields of study. Independent work for the certificate culminates in a major creative or research project, such as the writing of an original theatrical work, the production or direction of a production, the performance or in-depth exploration of a major role, set, lighting, or costume design, direction, dramaturgy, research for a written scholarly thesis, or any other theatrical endeavor in the creation or production of theatre. Dissertation students in the theater program work closely with one or more faculty members, who serve as advisors for these student-led projects, and with the Lewis Center's professional production staff.
López Haddad became interested in acting in high school but first began pursuing his passion at Princeton. He joined several student theater groups, including Triangle, Princeton University Players, Theater Intime, and the Playwright's Guild, and performed in Lewis Center productions of The Odyssey and was a manager on We spoke once. As of 2021, López Haddad served as President of the Performing Arts Council, and he is Editor-in-Chief and Reviewer of Scivias, Princeton Journal for Late Antique and Medieval Studies. After Princeton, López Haddad plans to pursue a doctorate. in medieval history. He hopes to focus his research on minority Christian communities in the Levant and North Africa and explore their relationship to the papacy in Rome.
Estefanía Fadul is a Colombian-born director and producer based in New York whose work aims to connect diverse communities through inventive, visceral and socially responsible storytelling. His recent and current projects include the world premieres of The Garbologists by Lindsey Joelle at the Philadelphia Theater Company and Eva Luna, adapted by Caridad Svich from the novel by Isabel Allende, at Repertorio Español in New York. Fadul has developed new work off-Broadway and regionally at the Public Theatre, Playwright's Realm, and the Latinx Playwrights Circle, among others. She has been invited to direct universities and training programs, including Julliard, New York University, State University of New York at Purchase, and the Atlantic Conservatory. Additionally, Fadul is an artist with the Center for Performance and Civic Practice, was the inaugural 2020 recipient of New York Stage and Film's Pfaelzer Award, and is an alumnus of the Clubbed Thumb Directing Fellowship, Eugene O'Neill Theater Center/NNPN's National Directors Fellowship, Drama League Directors Project's Fall Fellowship and TV Directing Fellowship, Civilians' R&D Group, Lincoln Center Theater Directors Lab, and Van Lier Fellowship at Repertorio Español.
The rest of the cast includes seniors Emily Cruz and Erica de Lacerda; Junior Kaelani Burja; sophomores Mahalia Norton, Raquel Ramirez and Aaron Ventresca; and freshmen Dominic Dominguez and John Venegas Juarez. Other students taking on key production roles are senior Ed Horan as music director and bassist, second student Kerstin Fagerstrom as lighting designer, junior Tommy Kim on drums, second student Rohit Oomman as guitar and graduate student Dylan Blau Edelstein as Spanish language coach for the cast.
The production's guest artists include ASCAP Foundation Fellow Julián Mesri as composer and lyricist for some of the original songs, feature and Broadway designer Raul Abrego, Jr. as set designer, alumna from Princeton Milan Eldridge as stage manager, award-winning composer Nathan Leigh as sound designer, movement theater artist Cristina (Cha) Ramos as combat and intimacy director, and Annika Perez-Krikorian on supertitles . College of New Jersey student Lily Bohon, a Best Buddies intern, is part of the race team. Sarita Fellows, faculty member, acts as costume advisor.
English surtitles of the show in Spanish will be provided. A assistive listening system is available at the Berlind Theater, and guests requiring alternate access are asked to contact the Lewis Center at LewisCenter@princeton.edu at least one week prior to the performance date.
To learn more about this event, the theater program and the more than 100 performances, exhibitions, readings, screenings, concerts and lectures presented each year at the Lewis Center, most of which are free, visit arts.princeton.edu.