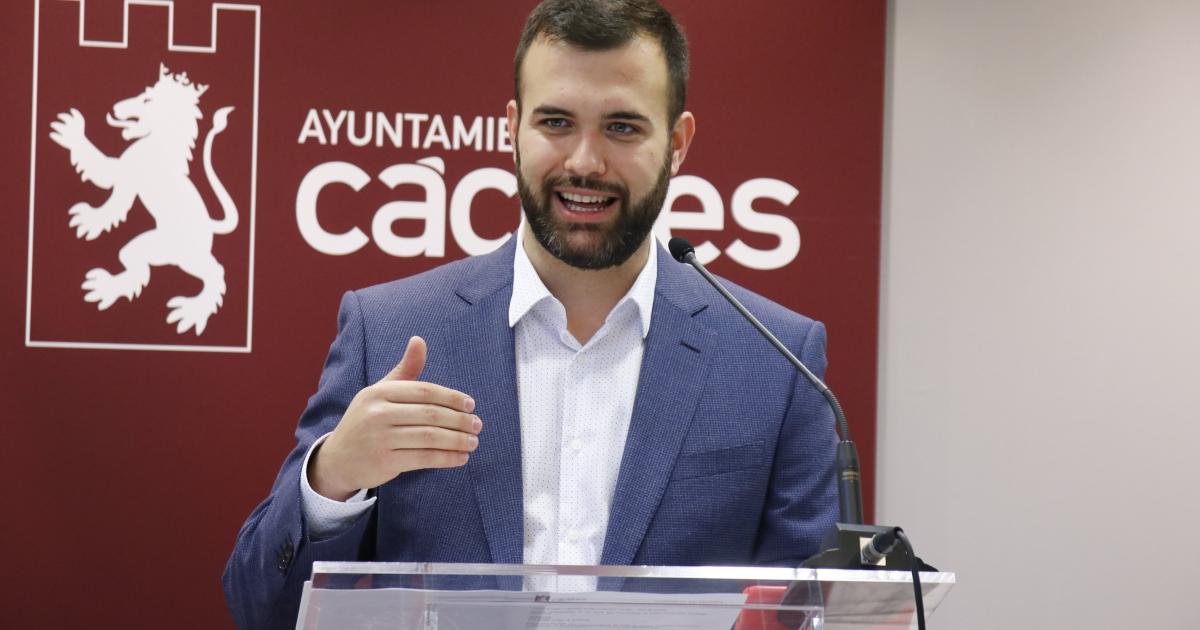 Luis Salaya: We want to build tourism based on sustainability and digitalization | LeMaire.EU
Luis Salaya: We want to build tourism based on sustainability and digitalization
Interview with the Mayor of Cáceres (Spain)
Luis Salaya Julián (Zaragoza, 1988) graduated in law (2018) after studying at the University of Extremadura and UDIMA. His political career began in 2004 when he joined the Socialist Youth. At the local level, he ran for the first time in the Caceres elections in 2015, becoming a municipal spokesperson. In 2019 he was elected the youngest mayor of all Spanish provincial capitals.
Mayor, how would you describe Cáceres for those who have never been there?
I like to talk about Cáceres as an urban provincial capital in the middle of a natural environment. We are very lucky to have the third most important monumental walled complex in Europe, thanks to its conservation and extension.
For this reason we have been a UNESCO World Heritage City since 1986. In our historic center it seems that time has stood still, strolling through its streets takes you back to a past full of palaces, convents, mansions and churches where the history of Jewish, Arab and Christian cultures intertwine.
Our rich heritage is found here with an exceptional gastronomic tradition and a varied cultural and artistic offer. Among the attractions that we offer visitors, the new Helga de Alvear Museum stands out. Inaugurated in February, it houses one of the most remarkable collections of contemporary art in Europe.
Additionally, our town has been declared a Special Bird Protection Area (ZEPA), so bird watchers may find it an ideal destination.
What are the most important economic sectors in your municipality?
Tourism is undoubtedly the most important economic sector of our city. We are a reference destination in the region and we had a year with very positive data. We know that the economic development of Cáceres largely depends on tourism, and we are committed to transforming it hand in hand with the different actors involved. We want to build tourism based on sustainability and digitization.
However, we are also working on projects to promote other sectors. For example, we want to develop the industrial sector with models related to sustainability and clean energy. Among these projects, the fields of photovoltaic plates, the creation of an eco-industrial park and the Iberian Center for Research and Energy Storage are underway.
All the private and public investments that are developing in the city make Cáceres a reference in the world of renewable energies and we want it to be so.
You are the youngest mayor in the municipal history of Cáceres. What are the biggest challenges that your administration has had to solve, apart from the Covid?
Ever since our government team started working, unemployment has been one of our main concerns. That is why we have strived to attract sustainable projects and companies whose activities are based on science, industry and innovation and which offer quality jobs.
At the same time, we have also worked to rationalize public contracts, which can generate jobs, and to encourage aid to companies which see their costs reduced. These aids are incentives for local consumption, participation in employment plans and collaboration with other administrations in the measures put in place.
Cáceres is the capital of a province that borders Portugal. What types of projects or collaborations exist with entities on the other side of the border?
Many aspects unite us with our neighbors in Portugal, we share a common past and shared goals for the future. The east-west flow of visitors is a constant between Spain and Portugal, as is the flow of trade and cultural relations.
Initiatives such as those carried out throughout the year by the Center for the Portuguese Language of the Camoes Institute and the University of Extremadura come to mind. Their goal is to spread the Portuguese culture and language, which have so many followers in our city. Likewise, with initiatives such as the European program Triunbir, which we carry out with Plasencia, Castelo Branco and Portalegre, we are working on a common strategy for tourism development.
What types of projects will be financed on the territory of the municipality with the European recovery funds?
Thanks to European funds, many public works projects will be launched, mainly related to the rehabilitation of neighborhoods, sustainable mobility, ecological transition and the demographic challenge.
More specifically, I can give as an example the construction of the second phase of the CHU. In addition, we opt for funds to promote sustainable mobility through the transformation of public transport or to set up low emission zones, among other actions. These projects should generate a large volume of jobs in the city and its surroundings.
In Cáceres, European funds have been essential for the creation and renovation of many urban spaces, the enhancement of the historic center and the improvement of accessibility and infrastructure.
Do you have any advice for other mayors of medium-sized towns in the European Union?
More than advice, I would like to make a suggestion that has been useful to me throughout these more than two and a half years as mayor, and that is that they should always consider citizen collaboration and active listening so that they can govern without losing sight.
In Cáceres, fortunately, we have very active neighborhood associations and organizations that collaborate with our town hall so that the projects launched take into account the real needs of the citizens.
The work between citizens and public administrations is the most effective way to improve our cities and advance in the Sustainable Development Goals promoted by the United Nations.
This collaboration is not only important for the future of our societies to align with the needs of citizens, but it is essential for the great projects to survive, regardless of the government.
Only when we get the locals on board can we guarantee that whoever follows will be compelled to keep fighting and working on the projects that have been set.