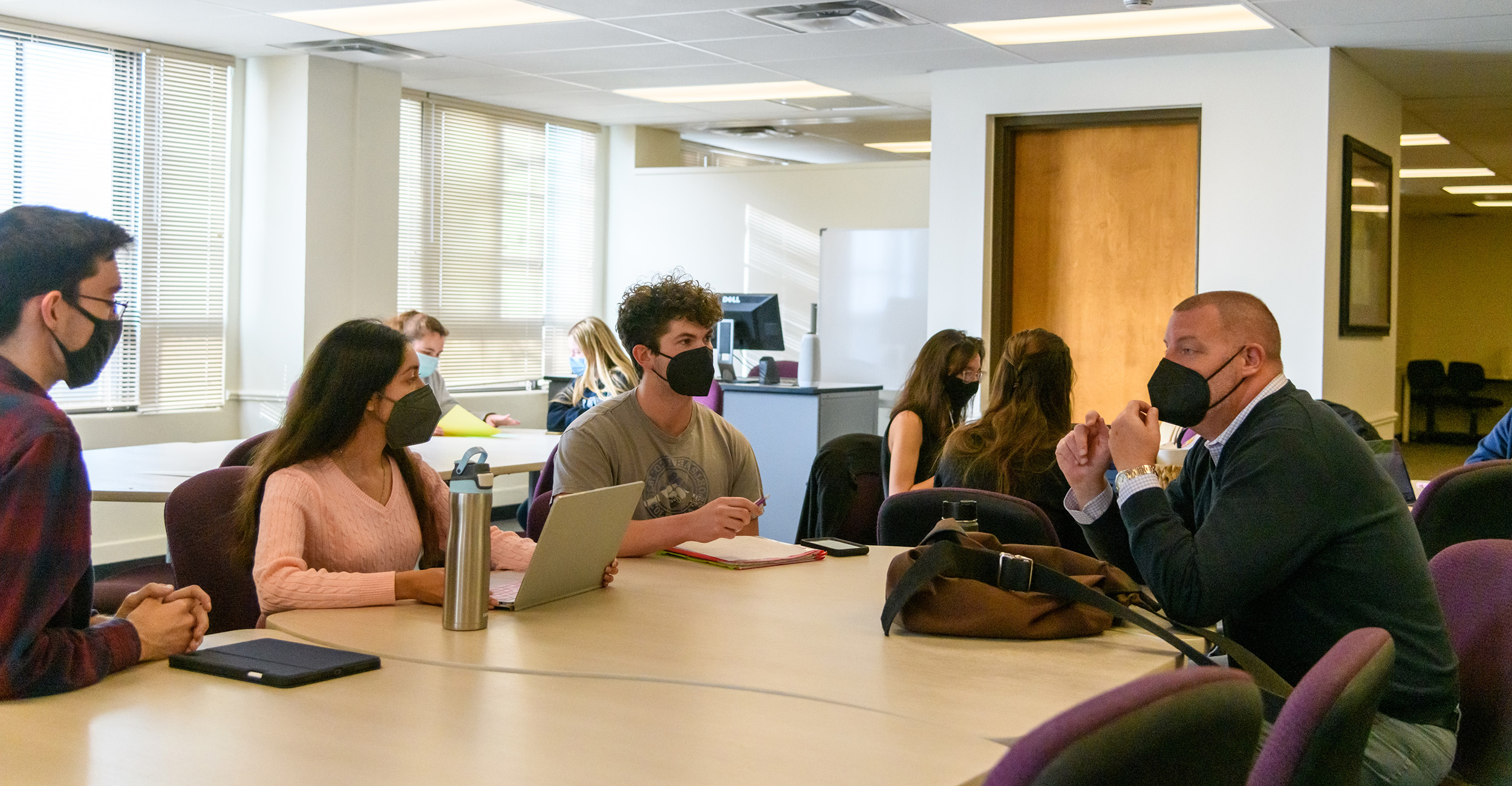 The language learning center provides a fun and stress-free environment for students
Thursday, February 17, 2022
Media contact: Jordan Bishop | Communications Specialist | 405-744-9782 | jordan.bishop@okstate.edu
A cacophony of voices fills the room on the first floor of Gundersen Hall. Some are fluent, some less so, but that doesn't matter in the new Language Learning Center.
It's a Thursday afternoon, which means the Spanish club at Oklahoma State University is in session. More than a dozen students spread out in the large open space, either doing their homework, talking to a tutor or even just chatting with friends.
One of the only rules of the Spanish Club is to speak the language as much as you can. And whether students are advanced or new to the language, everyone is welcome.
"The Spanish club has been huge for me. It's four extra hours a week outside of class," said OSU senior Jali Robertson, president of the club. "I was very nervous the first few times I went. I was only in my third Spanish lesson and it was mostly grammar so we didn't have to talk much. It's a great place to get out of your comfort zone without judgement."
Having a place not just for Spanish Club students, but for one of the many clubs offered by the Department of Languages ​​and Literatures was prudent in the creation of the Language Learning Center.
A space that had been dormant for a few years, it now consists of a large classroom, along with a few smaller tutorial rooms and a common area with a snack station for students to relax.
Dr. Erik Ekman, Head of Languages ​​and Literatures, said the center was something the department had been thinking about since 2017, when business classes previously located there moved to the new Business Building.
The center was scheduled to open in the spring of 2020, but COVID-19 happened. Now, after a slow launch, students are really starting to enjoy the space. Ekman said he sees students going in and out all day.
"They make friends and they get a community and a chance to practice. A chance to exchange information about their majors," Ekman said. "…The club is a sense of community and makes the language feel a bit more real if you can't go overseas."
Since most language courses deal with proper grammar, having a space outside of the classroom to practice it in conversation is crucial.
"The reason we do this is that they spend a lot of time in class answering specific questions. It's a form of communication that's important," said Dr. Matthew O'Neill, Senior Lecturer in Spanish. "Like the formalized type of interaction, but the one thing you can really only imitate is the actual conversational dynamic. You can only do that by studying abroad and being in the environment of the first language or in an environment where there are no grades and nobody is keeping points or anything like that. That's what we're trying to simulate while we're here.
Before the Language Learning Center opened, the Spanish club used to meet at the Daily Grind café off campus. Now that there is a more centralized space on campus to meet on Mondays and Thursdays, each club feels like home.
The Department of Languages ​​and Literatures offers several clubs in addition to Spanish, including: French, German, Japanese, Russian, American Sign Language, and a Cowboy Classics club.
Robertson — from Fairview, Oklahoma, who double majored in political science and global studies with a minor in Spanish — said she was interested in learning another language in high school. It took a lot of work, but she is now confident in her fluency and thinks having a place like the Language Learning Center has given her a place to practice which has really helped her.
"It's really encouraging to go talk to other students and learn how to use the language," Robertson said. "You can talk about reports or, if you've watched this or that movie, things you don't really get to talk about in class. It's a place where you can go and feel comfortable. It's much more intimidating to speak in a Spanish class than just talking in a group about things you talk about with your friends.
The Language Learning Center is at 104 Gundersen and information about the Department of Languages ​​and Literature, as well as the various clubs, can be found at languages.okstate.edu.