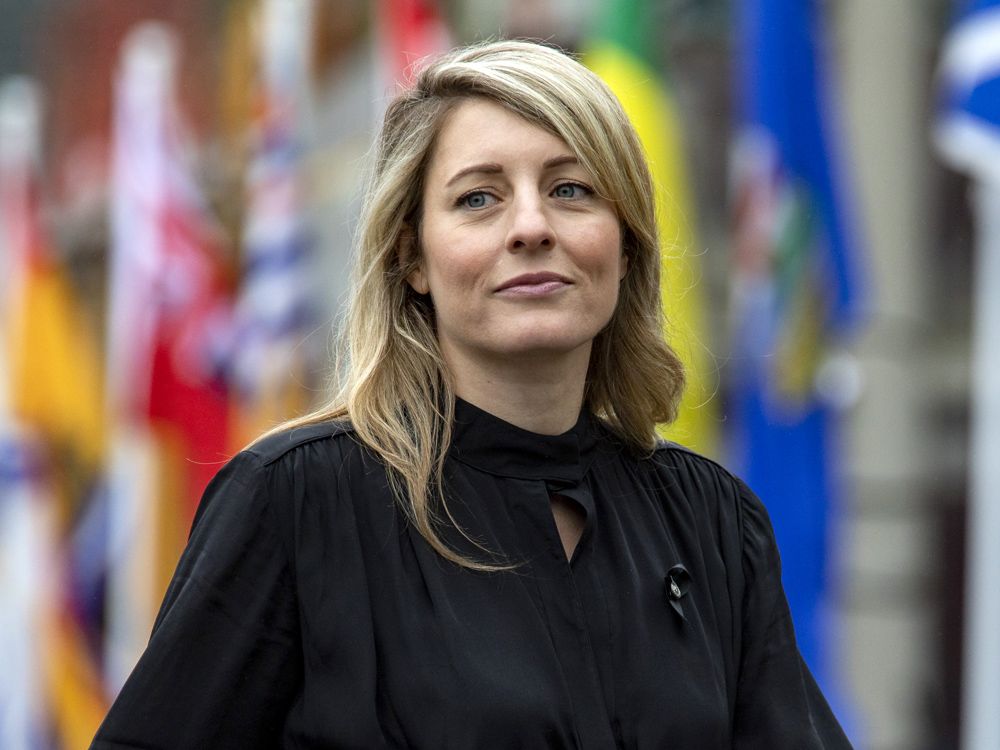 The partial mobilization of Russia is an "admission of failure" in Ukraine, according to Mélanie Joly
Asked about Putin's threat to use nuclear weapons, the foreign minister said she would "echo the words of the (UN) secretary general". It's not only irresponsible, it's unthinkable'
Content of the article
Russia's announcement of a partial mobilization of reservists is an "admission of failure" regarding its war in Ukraine, Foreign Minister Mélanie Joly said on Wednesday.
Content of the article
"It's because Russian soldiers are deserting the field," Joly told the National Post in a phone interview from New York, where she is attending the United Nations General Assembly.
Content of the article
She said Russian President Vladimir Putin "underestimated the support Ukraine would get from its allies, and he really underestimated the strength of the Ukrainian people in the fight against the enemy."
Russia's war in Ukraine is now in its seventh month. Following a counter-offensive by Ukraine, Putin ordered a partial mobilization on Wednesday. The move prompted some Russians to rush to buy plane tickets out of the country, and others to protest in the streets, the Associated Press reported.
Putin also threatened to use Russia's nuclear arsenal, warning he was not bluffing.
Content of the article
Asked about those comments, Joly said she would "echo the words of the (UN) secretary-general. It's not only irresponsible, it's unthinkable. And so Putin is playing with fire.
Joly is due to deliver a speech at the General Assembly on Monday. She said the speech would be about Ukraine, but it would also tackle disinformation, a topic the foreign minister has been talking about since Russia invaded Ukraine in February.
Putin warns West he won't 'bluff' on nukes in TV address

Russian plan to annex occupied Ukraine condemned by Canada and the West
Canada currently chairs the Freedom Online Coalition of countries, and Joly hosted an event at the General Assembly on Tuesday, alongside the Netherlands, focused on "maintaining democracy" amid rising misinformation.
Content of the article
She said Russian disinformation is getting "much more sophisticated over time." Joly gave the example of how Russia targets its messages on vaccination, telling Russians at home to get vaccinated, but telling the outside world in English that vaccines don't work, in order to create uncertainty. "In Spanish, Russia will say that vaccines are ineffective, except in Cuba, where they will say that vaccines are important, effective and people need to be vaccinated," she said.
Joly said fighting disinformation will include "exposing bad actors" like Russia and using his platform as Canada's foreign minister "to refute all the lies used by authoritarian regimes and bad actors." .
She said Canada and the Netherlands were working with other countries on a "rules of the road" document for social media platforms. The objective is then for this document to become the basis of an international declaration.
Content of the article
"We want to do that, well, obviously protecting free speech, because that's at the heart of our democracy. But it's a generational issue that we need to address, because democracy in the digital age cannot thrive if we don't agree that we need to address this issue.
Joly said Canada is also working to counter disinformation through the G7 Rapid Response Mechanism (RRM), a coordinated multilateral initiative that the federal government describes as "identify, prevent and respond to threats to G7 democracies".
Canada is leading this initiative, which was launched in 2018, and the Liberal government has allocated $13.4 million over five years in this year's federal budget for the RRM.
Content of the article
Last month, Prime Minister Justin Trudeau announced the creation of a "dedicated team" to fight misinformation. The team is an Eastern European-focused unit of RRM Canada that focuses on Russian disinformation.
Joly said the rapid response mechanism "has been used a lot by G7 partners, really to monitor everything that's happening online, and to really understand what the sources of misinformation are and what false narratives are being used."
Canada now has "expertise in the matter. And we have also just allocated new resources, because we know this is something that we will have to support even more in the weeks, months and years to come.