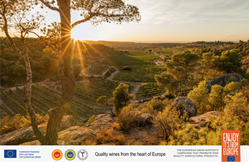 The "Quality Wines from the Heart of Europe" project tells of a Spanish ampelographic heritage
[ad_1]
NEW YORK (PRWEB)
December 14, 2021
The name Costers del Segre DO refers to wines produced in the province of Lleida, in northeastern Spain. The appellation, in collaboration with Slow Food Terres de Lleida – Culturas Trobades y L'Olivera, has started a collaboration that, in the coming years, will shed new light on the wine heritage of Poniente and Pirineo, two of the seven sub-zones. Costers del Segre is made of
For this reason, the renowned French ampelographer, Jean-Michel Boursiquot, with his team which includes among others the professor of the University of Montpellier Thierry Lacombe, have visited the region on several occasions, focusing on different strains of old vineyards used for self-consumption at Costers. subzones of Segre. The ampelographer and his team will study the different vines spotted during their site visits to identify the grape varieties they represent. The manager of L'Olivera, oenologist and winemaker, Pau Moragas, explains that the aim of this project is the maintenance of the variety collections, as well as the identification of old vines and the varieties they represent, as well as their reintroduction of varieties and promotion.
This project will once again enhance the typicity of this appellation, which is already a mosaic of different terroirs. Costers del Segre is actually divided into seven distinct subzones which give voice to many different geological and climatic conditions. The connecting link is the middle basin of the Segre river, between the Pyrenees and the Ebro. As for the soil, its main components are limestone and clay and it is poor in organic matter, a common characteristic and uniform throughout the designation of origin.
About the TASTE THE DIFFERENCE PROGRAM

The program: Quality European wines: taste the difference is a project funded by the European Union and managed by Unione Italiana Vini and PRODECA for the promotion of European PDO and IGP wines abroad in China and the United States. In order to achieve this goal, the TTD.EU program will organize seminars, workshops and b2b meetings in these countries as well as in Spain and Italy, inviting wine professionals to participate in study trips to Europe. The program, carried out over a period of three years (2021-2023) aims to raise awareness of quality European wines, in particular Italian and Spanish, which share a long tradition and a high level of quality.
The beneficiaries: Unione Italiana Vini is the oldest and most mandated association in the Italian wine market. It represents cooperative, private and agricultural wine companies, bottlers, consortia, associations and manufacturers of wine machines or cellars / laboratories, located throughout Italy. Promotora de Exportaciones Catalanas (PRODECA) is a public company created in 1986 and part of the "Ministry of Climate Action, Food and Rural Agenda of the Government of Catalonia". It supports the agri-food sector and its companies with the knowledge, tools and experience to increase their products in Catalonia and in the world.
Share the article on social media or by email:
[ad_2]