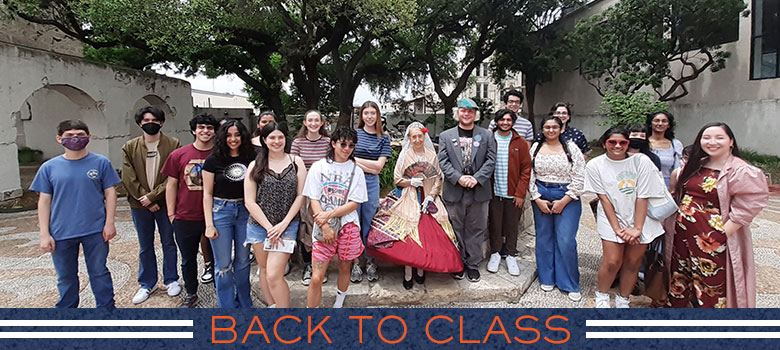 UTSA Scholarship Program Helps Freshmen Connect With Faculty and Peers | UTSA today | UTSA
During the pilot phase of the grant, 11 UTSA faculty hosted 23 different events during the semester to help build and strengthen student-faculty connections. Each faculty member formed a "familia" of 10 or more students and organized various activities with this group throughout the spring term. More than 150 undergraduate students participated in a variety of activities outside of the classroom, including game and movie nights, visits to local art exhibits, and group dinners.
"We understand that students have their own unique journeys to UTSA and that services that contribute to one student's success may not impact another," said Tammy Wyatt, vice-rector for student success at UTSA. "This grant program is an extension of our efforts to create dynamic learning and campus experiences to promote student success and show our students that they have a home at UTSA."
Rita Mitra and Andrea Marquez, both professors at the Carlos Alvarez College of Business, teamed up on their mini-grant proposal to host a movie night to project the social dilemma. They used the documentary as a springboard to discuss mental health – a challenge many students have faced since the start of the pandemic – and unveil the film's key themes, including technology, social media and its impact on our state. of mind.
"The mini-grant allowed us to meet and connect with students on a more individualized level," Marquez said. "It is important for us to recognize the role we play in supporting our students in their academic journey. »
Min Wang, an associate professor of management science and statistics at Alvarez College of Business, said the experiment revealed and then bridged a gap between research-focused faculty and first-year students. Wang typically only teaches graduate students, but he reveled in the opportunity to help undergraduate students explore a future in business. During a meeting with his family, Wang invited Marc SandovalVice President and Chief Audit Executive of Frost Bank, to share practical tips on how to get started and grow their careers.
Of the students who participated in mini-grant activities, more than 90% reported feeling more connected to their professors and classmates, and 84% reported feeling a stronger sense of belonging to the university.